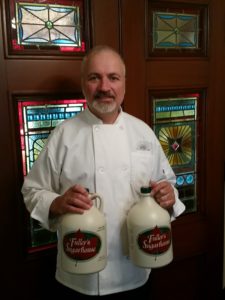 Summer knocked on the door early this year, (we went from the mid 40's to the mid 90's in three days!)  I thought it was time to break out the 2017 harvest of Maple Syrup. The mixture of cold and warm days throughout early spring produced a wonderful harvest. As usual we placed our order with Fuller's Sugarhouse up in Lancaster, NH and of course we order by the gallon.
One of the benefits of being the chef and owner of our B&B is being able to choose quality products and serve them to our guests as we like. Breakfast is ALWAYS cooked to order and in addition to eggs and omelettes, we always includes a choice between two types of pancakes, and typically french toast as well. On weekends, specials are offered rotating between sweet and savory options.
However, for now back to pancakes. Over the last couple of years, I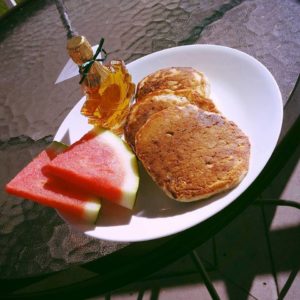 have received many compliments on our pancakes. I must admit I may be able take credit for how they are prepared and served. Always made to order with buttermilk and eggs added just before cooking. Our pancakes batter is never made the night before nor frozen. That makes a difference.
But what I can't take credit for is the syrup. Many guests have commented on how delicious the syrup tastes. They detect the nuances of true maple flavor which is totally different then the simple sugar taste of imitation syrup, (or as I like to call it caramel colored corn syrup).
We have the luxury of living in a state where over 90,000 gallons of maple syrup are produced a year (that's requires about 3.6 Million gallons of tree sap!) and are proud to serve it to our guests. To us, that is just one part of what a TRUE Bed and Breakfast is, a comfortable bed and a delicious breakfast.  Over the years our guests have come to expect a wonderful room (bed) and tasty snacks and breakfast, and we will continue meeting those expectations.
I didn't get a chance to talk about Maple Sugar this time, but that too is a wonderful natural product that deserves its own spotlight. But that's a story for another day.