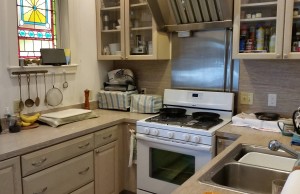 A couple of weeks ago, we had the pleasure of hosting three recent graduates from Southern New Hampshire University class of 2015 (including one who had received her Master's.) They were in town to attend the commencement celebration, as they were part of the online learning program and wanted to walk with the class.
This was a special weekend because although the guests did not know each other previously, they shared completing their degrees as adults and therefore shared a common bond.
This bond was evident by the time they spent sharing cabs, going out to dinner and of course breakfast talk. Margit and I could not help but be caught up with this special weekend and found ourselves joining in conversations more than usual, joking and sharing what the Bavarians (and Germans in general) call "Gemütlichkeit" which literally translates to coziness.
Although this weekend was special in many ways, the day to day operations was relatively the same as any other weekend.
Baked goods had to be ready for afternoon snacks, evening prep work had to be done for weekend breakfast specials and then the normal shopping and cleaning that also takes place behind the scenes.
This weekend seemed a little different since every time our guests returned from one event or the other, they found me in the kitchen.
This turned into a running joke until finally when several guests were returning from a celebration dinner (I think they were coming into the dining room for a late night snack) they saw me once again, and I finally had to tell them "I'm not always in the kitchen!"
This was indeed true as we then retreated to the porch for some late night conversation and a nightcap. Fun was be had by all and once more the saying came true: "Come as stranger, leave as friends"