The answer may be obvious but it may be worth reiterating, since today's breakfast was a little different than the typical day.
A B&B should mean just that, a luxurious Bed and a wonderful Breakfast. It should be a place that feels a bit like home and provides a nice comfortable rest for the guest. While it may not feel like your home, it should have a "homey" feel. After all, it is your home away from home.
Breakfast should be another reason why you choose to stay at a B&B. Today we had a couple staying that follow a Vegan diet. They had informed us of this during the booking, and also took the time to call. We  reassured them that it would not be an issue and we would plan accordingly.
Their breakfast could have consisted of a few different options, the easiest would be to just supply fruit and perhaps some vegan yogurt and cereal. We feel however, that breakfast should be something that you remember as part of your stay at the Ash Street Inn. In this particular instance, I had emailed the guest and suggested vegan Banana Pecan Pancakes.  I heard back a couple days later that "The breakfast you have planned sounds fantastic!" so it was put on the menu.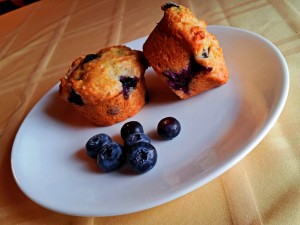 Margit took this one step further and added a vegan Blueberry Muffin to the check-in baked goods, They were placed alongside Chocolate Chip Cookies and Apricot White Chocolate Chip Scones, both non-vegan.  Success, we were told the muffins served as an excellent after dinner dessert when our guest returned "home" and were looking for a snack.
The pancakes were well received in the morning and were served with warm NH Maple Syrup and earthbalance "butter". There was of course fruit and soy yogurt as well. Upon checkout I was pleased to see a note in our guestbook that said "thanks for the beautiful room and  fantastic breakfast." Mission accomplished!
Although we can not accommodate all dietary needs, we will do our best to have some options available. We do ask during the booking process, that if you have any allergies or dietary restrictions, please let us know,