Margit and I had the pleasure of hosting a bridal party this past weekend. What I mean by hosting is that the bride (Nicole) and her bridesmaids used our Inn as the venue to prepare for her wedding.  The entire Inn had been reserved for Saturday night as well.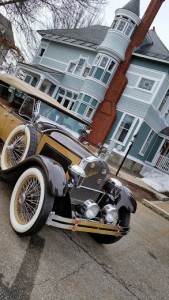 The bridesmaids arrived around 1:00 o'clock to kick things into gear.  There were the usual last minute snafus involved in many weddings, the bride's dress was a no-show and someone had to drive to fetch it, the groom had a flat tire and the weather was iffy. Par for the winter we are having, it snowed in the morning but the Sun did  shine through as final preparations were made. Three Photographers arrived and the Inn became the backdrop of some wonderful photos that will be looked upon for many years to come.
 The Bridal party was whisked away in a pair of 1931 Packard Roadtsers and although still cold, the Sun continued shining.
We then had a chance to relax a bit and then I headed to the kitchen to do some prep work for Sunday's breakfast.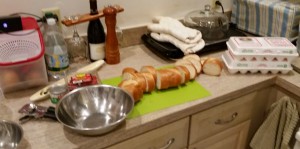 I wanted to add something special to our regular menu so I decided to add a couple of extras. I was told that the groom (Tony) was a big fan of pancakes, so I decided to "Chef it up" a bit and besides our made to order buttermilk pancakes, we also had Maple Pecan French Toast. There was also a Southwestern Frittata for those who preferred something savory. along with our regular breakfast menu.
I headed up to our living quarters to get some sleep knowing that I had an early morning, only to have the doorbell ring a couple of times as keys were left inside rooms. (not a surprise at all considering it was a wedding party and I suspect they had quite a few other things on their minds). I suppose I should mention that one of the reasons they chose our Inn was because it was only a two block walk from the Currier Museum, which was where the reception was held. It was also a bit shocking to see that most of the Bridesmaids were not wearing coats and were still wearing their gowns, it had to be around 30 degrees when they returned! Some did however have their husband's jackets draped over their shoulders.
The next morning the guests came drifting in in pairs, (some a little slower then others) and it was fun hearing the play by play review of the prior evening. There was plenty of coffee being drank and good food being eaten.
At around 10 o'clock guests starting leaving to either head home or to the hotel where other family members were staying. A subdued silence took over the Inn and Margit and I sat down, enjoyed a quiet coffee by ourselves and then kicked back into gear to reset the Inn for the next guests.
Was it worth it? Absolutely! It was also rewarding to receive this feedback  from one of the Matron's of Honor, thank you Audrey.
The best bed and breakfast I have stayed in! I'm not sure what is better, the accommodations or the food (ask for the pecan french toast for breakfast!!) Impeccable service accompanied by a spotless room makes the Ash Street Inn a top notch pick!
Interested in booking the Inn for your own wedding party?
Email or call for details